First off, no. There is no cheat code for the SNKRS App. Regardless of whatever Twitter posts you may have seen that give some complex list of keystrokes and touchscreen gestures, there is no way to guarantee success on the app.
The Nike SNKRS App has made plenty of headlines in sneaker circles of late both for its success and shortcomings. Despite the constant scrutiny from sneakerheads, the app does a fair job. The app can be intimidating if you're new to the game but we've put together a detailed guide to help you get started on the app.
Setting Up Your Account
Once you've downloaded the app you will need to set up an account. Enter all of your personal information such as shipping address and size profiles. Then head over to the profile tab and add your payment information. Your account will then need to be verified with a 6-digit code that will be text messaged to the phone number you used to set up your account.
You will want to have this done well in advance of any drop so you're not fumbling around trying to add your info during a release.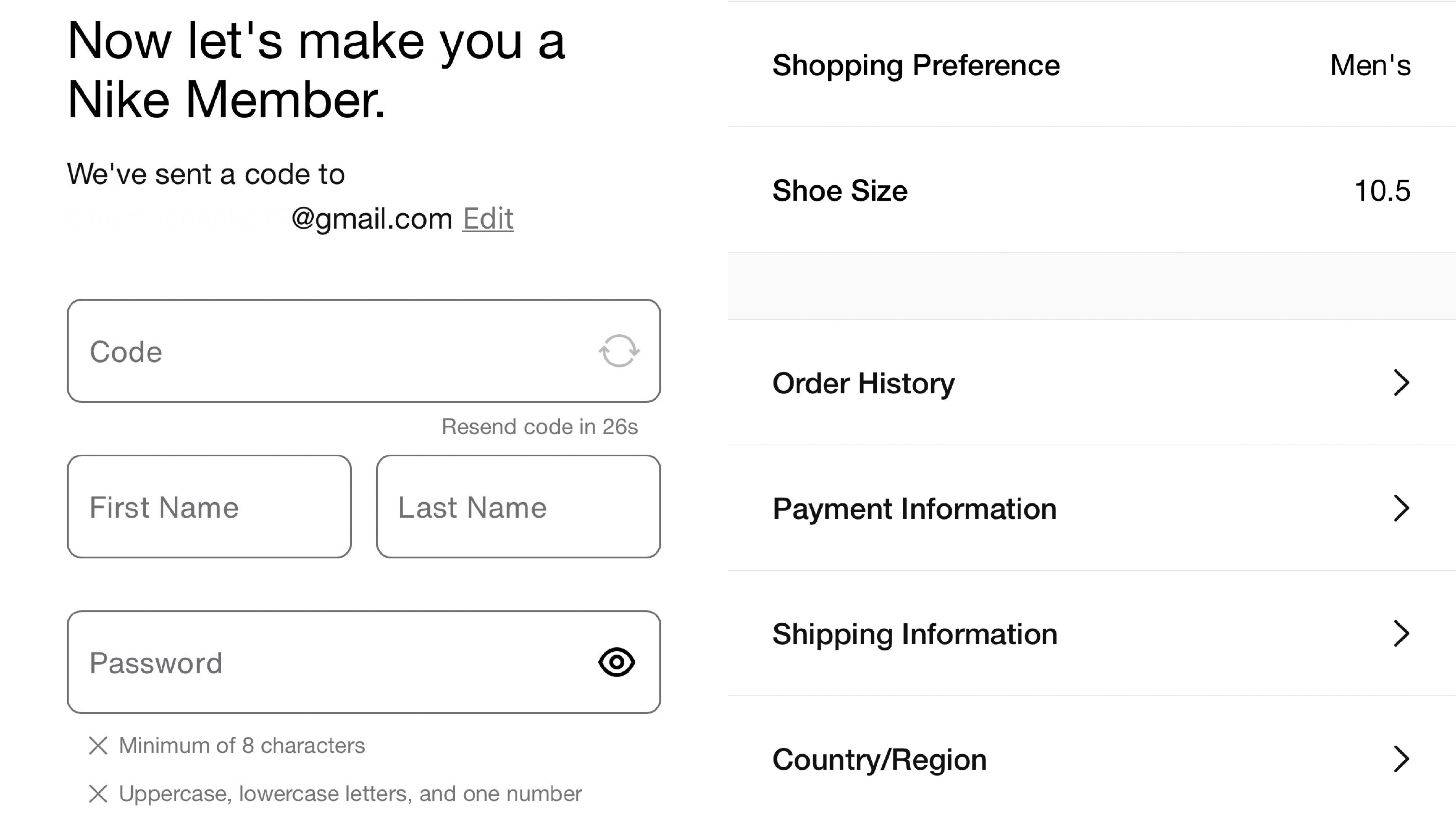 Once your account is set up and ready to go you're ready to enter your first drop. Now, it's important to know that speed doesn't mean much on SNKRS. All initial drops are run on a randomized raffle-style system and not FCFS.
To enter a SNKRS drop you will need to click on the product page, select your size and confirm your payment and shipping information. All releases will take place at 10:00 AM EST unless otherwise specified and there are two basic types of drops. The only real difference between the two drop styles is the time you have to enter.
DAN: 10 minutes or more to enter. You'll know the shoes are releasing via DAN draw when you click on the product page and just below the product name it says "Draw opens May 10 at 10:00 am". Once the draw opens you will see a countdown on the product page showing you how much time you have left to enter, 99% of the time it's 10 minutes.
LEO: 2 minutes to enter. When a shoe is released via LEO draw it will say "Available May 10 at 10:00 am". Speed does matter a little more here than with a DAN draw but still does not mean FCFS
For both DAN and LEO, the app will take as many submissions as possible in the allotted window of time. When that window closes each entry will receive a randomized number that has nothing to do with how fast you entered. Orders will begin to process starting with the lowest number and working their way up and if the size you entered is still available when it's your turn your payment will be charged and you'll see the iconic "Got 'Em" screen.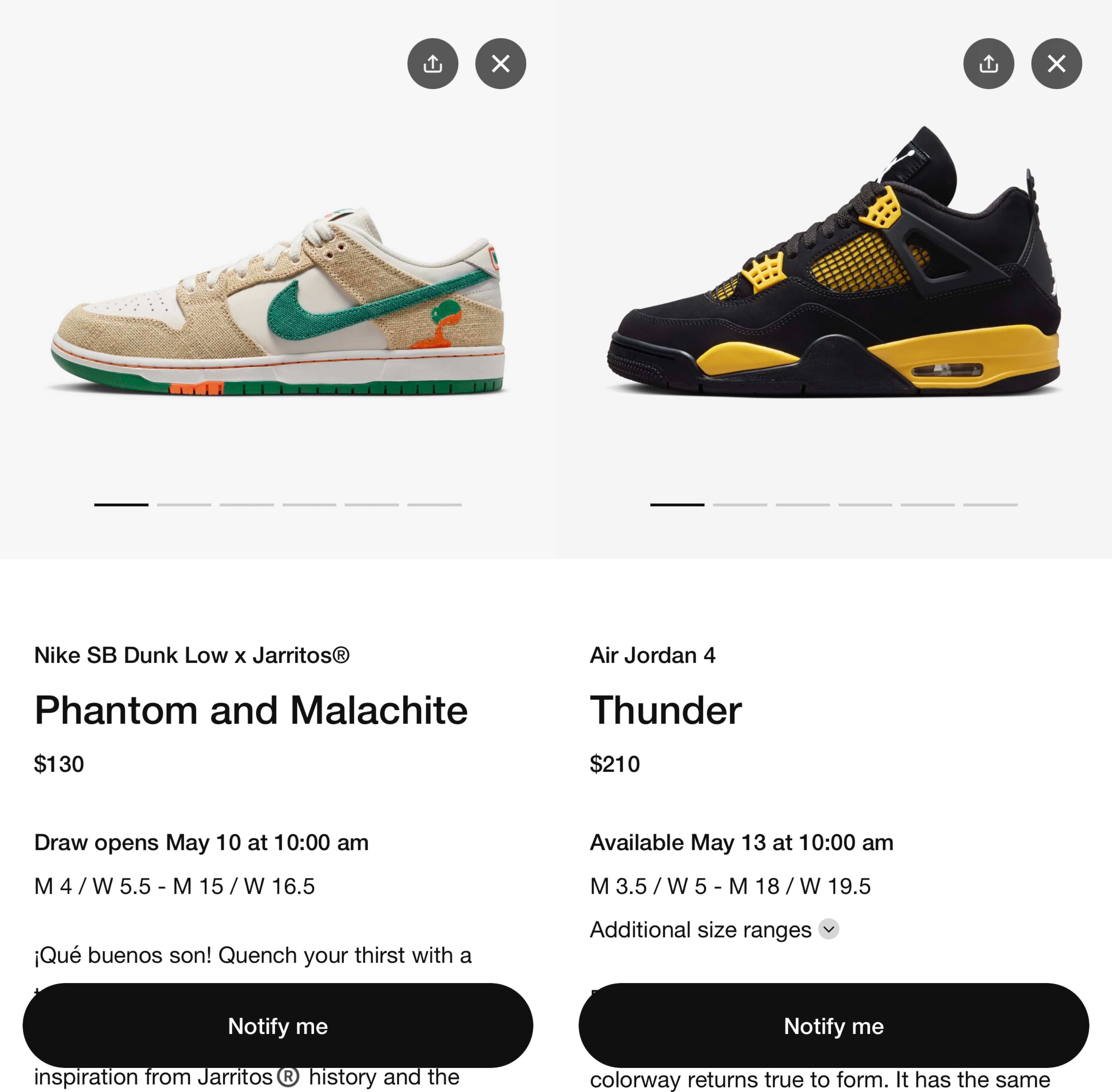 Can I Cancel An Order?
If you suddenly have a change of heart after a drop don't worry, Nike gives you a 30-minute window after your order is confirmed to cancel the order. To cancel just head over to the mailbox tab, find the order, and click cancel.
Boosting Your Odds
Again there is no cheat code. However, there are a few things you can do to slightly increase your chances. None of these are guaranteed but have been proven to give you a fighting chance.
Purchase History - Having spent some money in the past does indeed help. It doesn't have to be sneakers, it can be socks, t-shirts, or anything else. It also does not have to be purchased on the SNKRS app, purchases made via Nike will also be added to your account history.
Activity - Any way you can engage in the app can benefit your standing. Reading articles, watching videos, and participating in polls all help to show Nike that you are an active member of the community.
Other Types Of Draws
From time to time Nike will run other types of draws on the SNKRS App. They can be pretty fun and exciting but also can be extremely successful if you don't know what to expect. Now, for all these special operation releases SPEED MATTERS. The special style draws listed below all operate on a FLOW style which is Nike's version of FCFS. Be quick but careful as any false steps could cost you your pair.
Exclusive Access (EA): This type of drop will allow specific users to purchase their shoes before the actual release. EA drops typically take place at noon EST and you will receive a notification saying you have the early opportunity. The EA window is typically only 30 minutes long and sizing is not guaranteed. There's only a specific allotment of pairs available during EA and once they're gone, they're gone.



Shock Drop: Similar to EA as it gives access to shoes in advance of their stated drop date but they also give access to the general public. This means that everyone with an SNKRS account will have the chance to purchase at the same time. Shock Drops usually take place between the hours of 11:00 AM EST - 1:00 PM EST but can take place at any time of day. Shock Drops operate via LEO draws and are not FCFS.
SNKRS Pass: If you live anywhere near a Nike flagship store you're in luck. SNKRS Pass is a reservation-style release that gives users the chance to secure and pick up their pairs from a local Nike store (flagship stores only, no outlets). SNKRS Pass typically takes place later in the day between 1:00 PM EST and 5:00 PM EST and functions like a DAN draw. You must be physically located within 25 miles of the store when you first open the app or the geo-targeting won't allow you to enter. Not every Nike store will have stock and all sizes might not be available but this gives you a much smaller sample set of entries to compete against.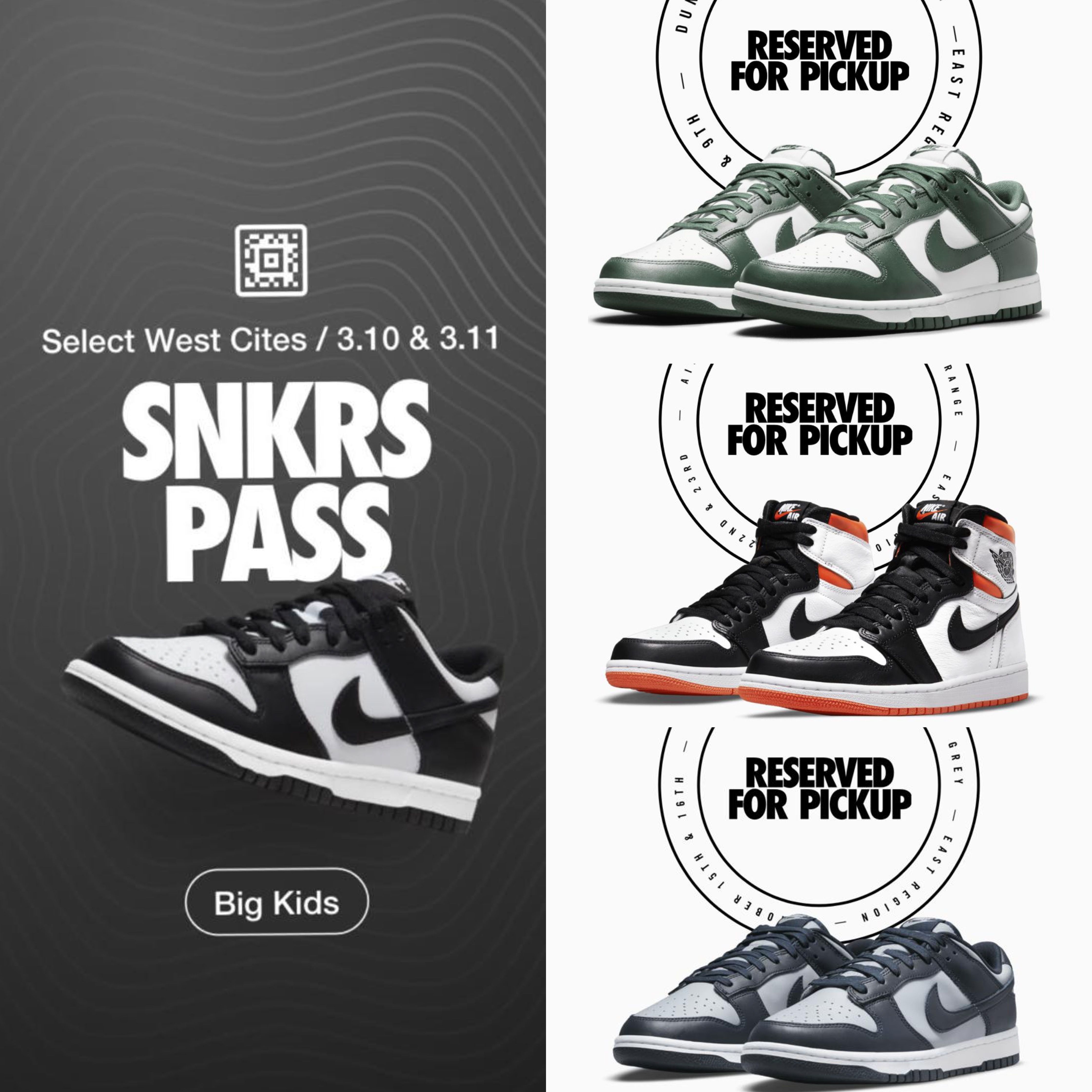 SNKRS Stash: Similar to an SNKRS Pass in that it's location-based but much more specific. For these releases users will have to find a specific set of coordinates to access the shoes. The location will likely have some meaning tied to the shoes themselves and stock will be extremely limited. Once the geo-targeting reads your location as being close enough to the actual coordinates you will be granted access to purchase on a FLOW-style drop.
SNKRS Cam: This one can be a little tricky as it requires two devices. For a SNKRS Cam users will have to use the in-app camera to scan an image before being granted access on a FLOW basis. Pay close attention to all of the Nike brand's social media platforms as they typically make the image available sometime before the drop. Once you acquire the image you will need to have it open on one device (phone, desktop, smartwatch, etc) and scan it with another. If you're prepared and ready for this drop it can be rather simple to cop.
SNKRS Scratcher: This style of release is Nike's version of a scratch-off lottery ticket. When these drops load access to the sneakers will be hidden behind an image. Users will need to use their fingers to actually scratch away that image and reveal the drop that lies beneath the surface. Scratcher drops are FLOW based and tend to be rather small stock.
While these special style releases can be tricky if you don't know what to do they often have the best chances of success as they are completely bot-proof. Believe it or not, Nike actually does a pretty fair job in combating bots.
Troubleshooting
While the struggles of the SNKRS App are well publicized there are some things you can do to prepare for the inevitable struggles. To be fair, on hype releases, the SNKRS servers are inundated with millions upon millions of entry requests with many of them coming from bots. This amount of volume is enough to overwhelm any system of servers and then layer in an attempt to filter out fraudulent entries and you have a pretty tall task on your hands. You must accept some errors as part of the game and be ready to overcome them.
Log in ahead of time - Try logging out of your account and logging back in about an hour before the release. Oftentimes Nike will make you reverify your account on release day so it's best to head this off before the drop.

Make sure your app is updated - Always make sure you are on the most current version of the app. Nike has been known to release updates an hour before a hype release that often includes functionality enhancement that may be necessary for the drop.

Have the desktop site ready as a backup - Yes, you can enter most drops via desktop. Head over to the

SNKRS Launch page

, log in to your account, and be ready to enter there if the app struggles.

Patience and persistence - If the app struggles, give it a minute or two and try again. If it's still struggling try force closing the app and reopening it. If the clock is ticking down and the app is still struggling see troubleshooting tip #3.
Trust The Process
In closing, be prepared, be active, and don't be frustrated when you don't cop. Even the most successful SNKRS users deal with cold streaks that can last over a year. Stay the course, trust the process and your time will come….and no, there is no cheat code.
For more tips and tricks on how to cop kicks follow us on Twitter and Instagram