What is StockX?
The rise of technology has been a major catalyst for the growth of the sneaker industry. The present-day secondary sneaker market in the United States is valued at around 6 billion dollars and is continuing to grow rapidly every day. The internet is filled with a wide variety of online marketplaces that allow buyers and sellers to come together to transact a good. A platform that has grown tremendously across the sneaker industry is StockX, one of the leading online marketplaces for sneakerheads, collectors, and enthusiasts globally. Launched in February 2016, StockX has taken the industry by storm, creating new standards and reshaping the traditional dynamics of the market.
With the industry becoming so competitive, the platform has allowed for the facilitation of transactions in an easy, efficient, and safe way. StockX acts as a middle man between the buyer and seller to ensure that there is no foul play on either side of the transaction. They strive to ensure authenticity for buyers and a way in which a seller can safely make a sale without any worry of credit card disputes by buyers. As the industry continues to grow so quickly and the demand for exclusive sneakers continues to surge, StockX is at the front of this industry.
Image via StockX
Buying & Selling on StockX
StockX is such a versatile platform that can cater to diverse types of buyers and sellers. Whether you are a full-on reseller looking to turn a profit, or an avid sneaker collector looking to pick up a new pair for the collection, StockX provides a seamless and simple process in doing so for all types of buyers and sellers in the industry.
The process is simple, if you are a buyer you can easily browse thousands of unique Sku's in a matter of seconds and either place a bid and wait for a seller to accept it, or buy an item at the sellers asking price. Once your purchase is complete, all you need to do next is sit back and wait for your order to arrive at your doorstep. The buyer will ship out your brand new pair within 2 to 3 business days to a StockX authentication center in which StockX will provide a fully pre-paid shipping label for the seller to use. Next, as soon as StockX receives your item they will open it up and ensure that the product is brand new and authentic. Once your pair passes inspection, StockX will then ship out your new pair to you soon after, and it will only take a few days from there to get to your door step for you to enjoy. As a seller, the process of being paid is just as simple as the buying process. As soon as your pair is authenticated by StockX inspection specialists, your funds will be initiated to be sent to your bank account immediately.
5 Step Process:
1. Seller lists an item for sale
2. Buyer matches the sellers ask and purchases the item or seller takes the highest bid
3. Seller ships out the item with a StockX pre-paid shipping label within 2-3 business days of sale
4. StockX inspection specialists authenticate the item, pay out the seller, and ship it out to the buyer
5. Buyer receives a brand new item at their door step a few days later to enjoy
Image via StockX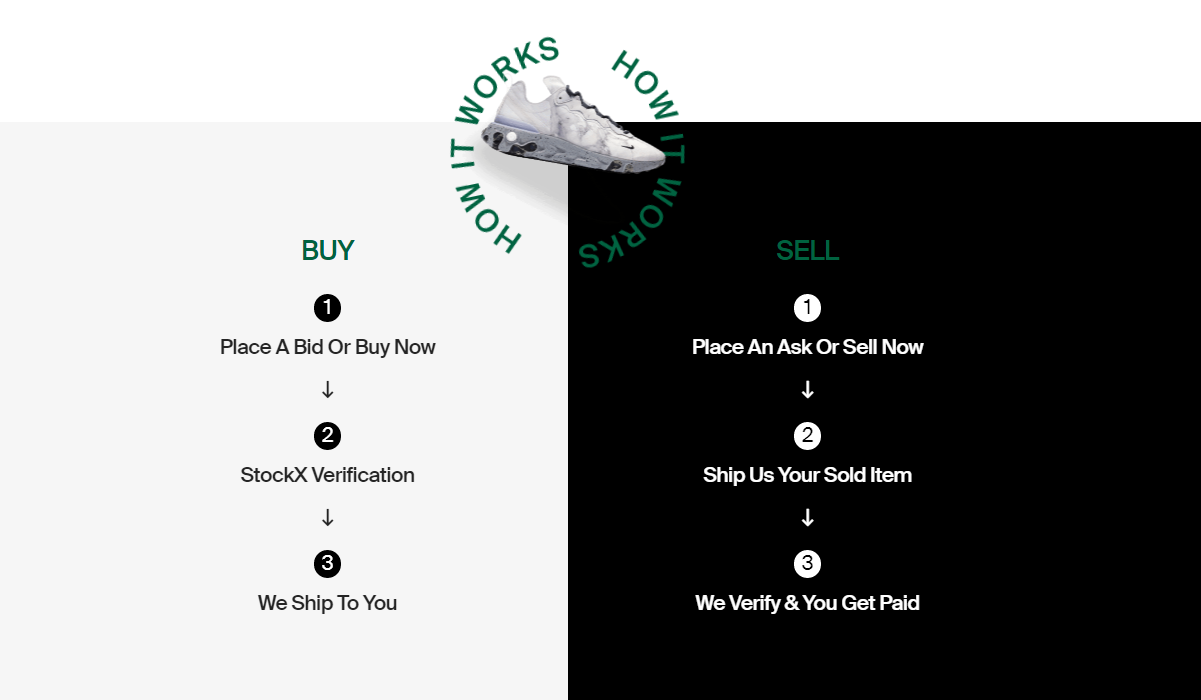 Reliability of StockX
As great as StockX is and how easily it allows buyers and sellers to transact goods to one another, the question that remains at hand still, is the platform safe and reliable for buyers? As the sneaker industry continues to grow, so does the vast amount of replica sneakers. The issue is whether or not a buyer could be a victim of receiving a replica sneaker through StockX, despite their authentication process. Overall, the platform seems to be doing a great job with avoiding replica sneakers from passing through, but as technology continues to advance, replica sneaker makers are getting better at creating sneakers as good as real ones, and it is becoming very difficult to tell the difference.
Social media posts suggests that some replica sneakers are being passed through the middleman time to time. In an earlier story we covered, Nike had filed a lawsuit against StockX over how the platform was using Nike's trademarks for their NFT's. However, in addition to that, Nike's Lawyers, have submitted a document in regard to a StockX buyer that had received 38 total replica sneakers by the platform between March and July 2022. This is a major concern and is very worrisome to many buyers across the platform. This is only one of the more recent stories that have made headlines on the legitimacy of StockX's authentication process. In another article that was covered back in November 2022, it goes more in depth on the removal of the Verified Authentic badge on product pages. StockX still continues to defend their brand and their authentication process. Ultimately, what are the chances of receiving a fake sneaker by StockX? The answer is not statistically known, but in general the platform is safe and continues to be one of the leading online marketplaces for sneakers.
Image via @brendandunne

Should You Use StockX?
Ultimately, the decision is up to each individual on whether or not they want to utilize StockX's platform for transacting goods over the internet. Nonetheless, StockX's platform shows off many great advantages, making it an excellent platform to connect buyers and sellers together in a seamless manner. Despite some authentication issues and other challenges associated with StockX, they still remain at the forefront of online marketplaces for sneakers, solidifying their presence as a trustworthy and reliable platform for sneaker enthusiasts.
For more information on StockX, and to stay up to date with the latest releases, connect with us on Instagram and Twitter.