Kith has come a long way since opening the first store back in 2011, a real long way. What started out as a joint venture with fashion boutique Atrium has since grown into a global powerhouse.
On November 11 2011, Kith launched its first standalone store. This flagship would be the beacon of streetwear on the New York City streets that launched the movement. The shop was located at 644 Broadway and represented a culmination close to 20 years in the making for Ronnie Fieg. The Asics Gel Lite's and Scotch & Soda camo pants all led to this, Kith was finally here.
Make Your Own Way
A few years later, in 2015 an opportunity presented itself for Ronnie Fieg to actually purchase the building at 233 Flatbush Ave that was home to the Atrium + Kith co-op. The opportunity was too good to be true, and Fieg secured the building. Now owning the entire space, Kith expanded from its original 800 square feet footprint to the entire 3,000 square foot space.
With a firm homebase of New York the brand started to launch stores throughout the country. Miami Beach was first up in 2016 as Fieg always thought of Miami as home away from home. The Kith-mas holiday offering also brought about a unique opportunity for expansion in the form of a pop-up shop in the wintertime tourist hotspot of Aspen, Co. The pop-up first appeared in 2016 and received such a huge response that it became a seasonal recurrence, and eventually a year-round operation. After Aspen Kith pushed further westward with a location on Sunset Boulevard in West Hollywood in 2018.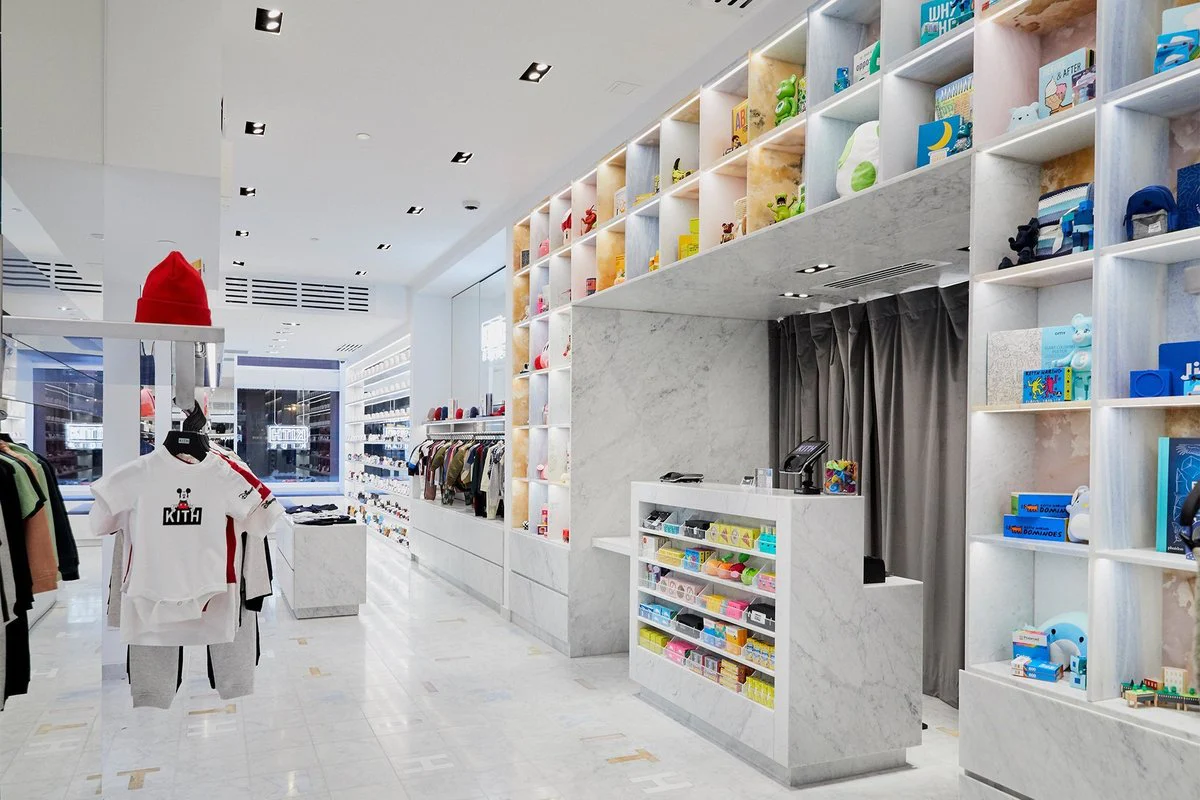 Next up came Kith for the next generation. The brand wanted to make sure the little ones were always kept fresh, so they opened Kith Kids on Bleeker St. in New York in late 2019. Fieg proved to be ahead of his time again with this concept because while other brands did offer kids sizes none of them actually dedicated a boutique to them.
With operations on both coasts of the U.S. in hand it was time to look beyond the horizon. With dreams of global prominence in mind Ronnie Fieg wanted to bring his styles to new markets abroad. Recognizing that the far east was a hot bed for streetwear, Kith set up shop in Tokyo on July 4, 2020. After that it was off to the fashion capital of the world for the birth of Kith Paris in early 2021. Now an international player, it was time to bring Kith back to the states. Kith Hawaii was next up with a storefront in Honolulu on the island of Oahu.
After the overseas expansions were up and running Fieg brought Kith back to the mainland and continued the take over the states. In 2023 Kith bolstered its presence in California with a location on the West Coast fashion hub of Rodeo Drive in Beverly Hills. Next it was back east to open a second Miami shop with a new operation setting up in the Design District. After that it was back home to New York for a spot in the trendy Brooklyn neighborhood of Williamsburg. It seems growth is the mission for Kith right now as these three stores all open in the first three months of 2023.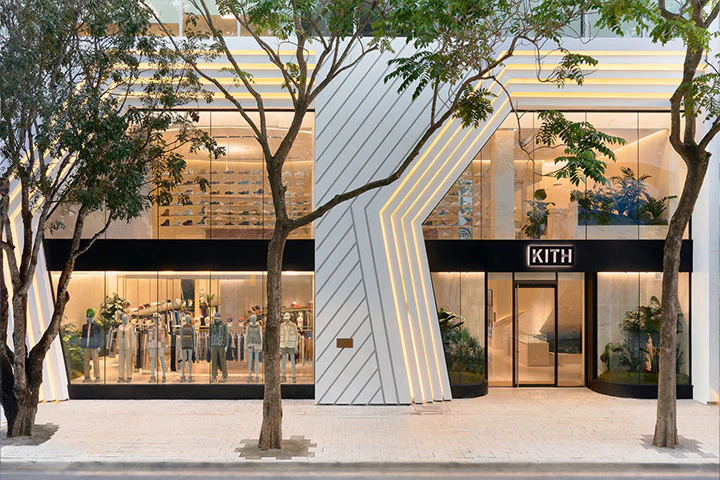 Remember Your Roots
While Ronnie always wanted the Kith name to stand alone, he recognized the importance of partnerships and collaborations. In 2016 there was a steppingstone for Kith that followed in the footsteps of Atrium. They opened another store within a store at landmark New York department store Bergdof Goodman in 2016. With Bergdof Goodman planting its roots in New York over 100 years earlier it was an institution and a destination. This gave Kith exposure to the masses and put them in the forefront of shoppers who may not have been familiar with the brand yet.
Having seen so much success at Bergdof Goodmans Kith moved out to Long Island for another New York stopping staple and opened an operation within the iconic Hershleifers in 2017. This was another store with a 100-year history that would again open up Kith to more and more of the masses.
The next step for the store within a store model was to take it across the pond to London's Selfridges. The London based department store on Oxford Street first opened its doors to the public in 1909 and found a home for Kith in 2019. This business model was clearly a huge success for the brand in terms of generating visibility. It gave the brand a name that would be demanded all over the world.
Ronnie The Restaurateur
Around 2015 Ronnie Fieg wanted to bring his lifelong lover for sweets into the fold. When Kith took over the Flatbush space, they launched the first Kith Treats. This was a cereal and dessert bar within the store where hungry shoppers could find a snack. The snack bar has had so much success that it's now a mainstay in nearly every Kith location worldwide. In true Ronnie Fieg fashion, it features "collaborations" with some of the biggest names in the industry with the likes of Virgil Abloh, Daniel Arsham, and Nigel Sylvester putting their own spins on sweet menu items. With a 6-month standalone pop-up shop co-branded with Nike and locations all across the globe on its resume, Kith Treats now boasts over 1 million servings sold.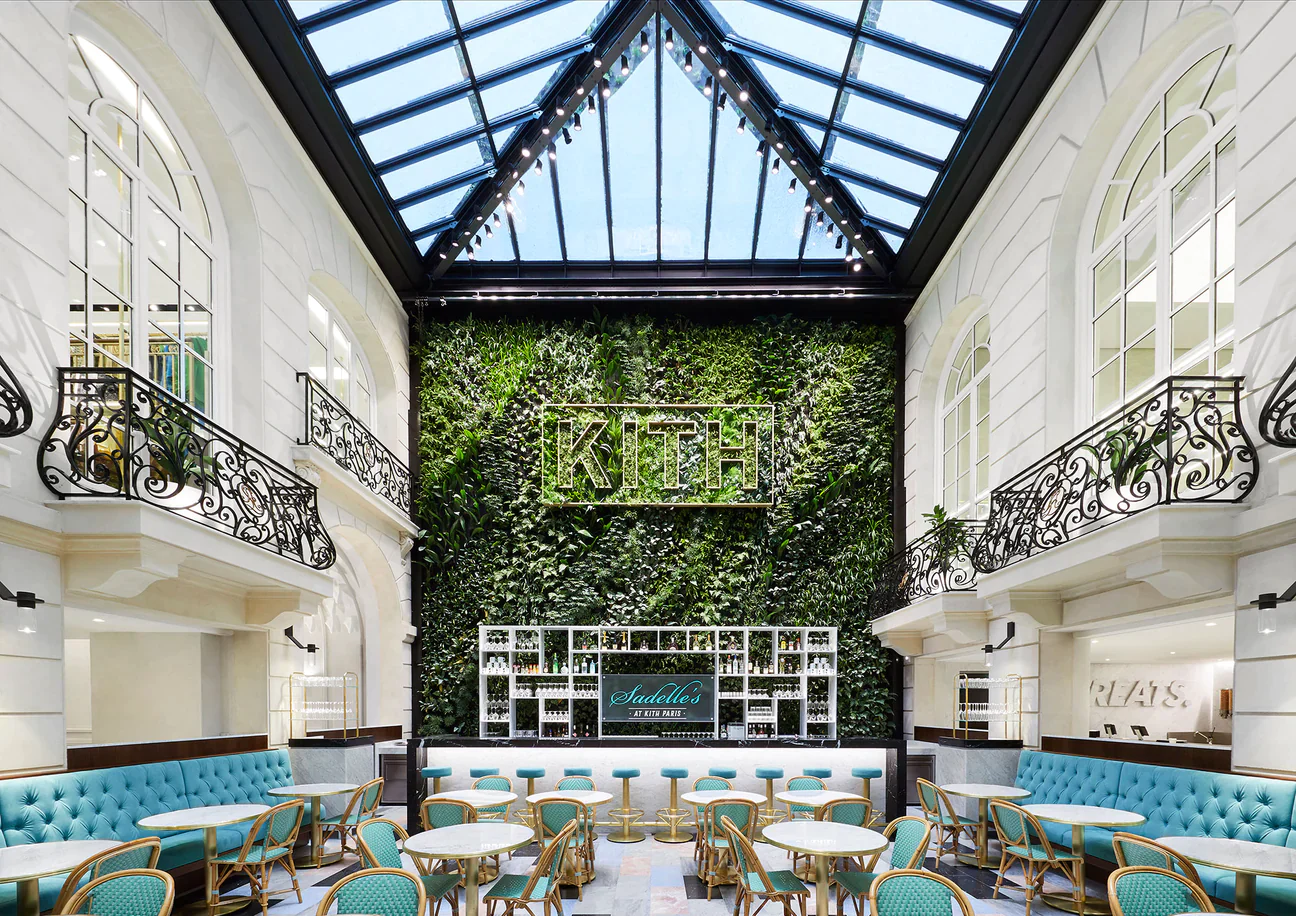 The next venture for Ronnie Fieg would be a full-on restaurant called Sadelle's. In 2021 Kith partnered with Major Food Group to open a full-service restaurant within the Paris location. The concept was an all-day brunch service offering everything from a Salmon Benedict to Pigs in a Blanket along with a full bar and cocktail menu. It looks like this partnership is just getting started as the newly opened Kith Miami Design District also has a home for a Sadelle's concept.
With 15 retail operations, 12 sweet snack bars, and 2 full scale restaurants spread across 3 continents there's no telling just how big this empire could grow. Who knows what's next, perhaps a Kith FC soccer franchise or a chain of movie theaters? Ronnie Fieg is barely 40 years old and only seems to be just hitting stride now. I'd put nothing past his creative vision and am very excited to see just what Kith has in store for us next.
Images via Kith