By now, you're no doubt familiar with the Nike SNKRS App and how it operates. The App is Nike's primary platform for releasing anything of note. Most Air Jordans, Dunks, Air Maxes, and other silhouettes release exclusively on the SNKRS App in addition to hyped clothing collections. For the most part, all releases have a specified date and time for their release, but the Swoosh makes every effort to keep sneakerheads on their toes and keep the bots at bay.
What Is Exclusive Access?
Exclusive Access (EA) is one drop type that differs from typical releases. EA is precisely what it sounds like; Nike selects a predetermined number of accounts and gives them the first dibs to purchase a given shoe. This means that only accounts with EA will have the chance to cop, and they won't have to worry about fighting the millions of other people that enter the standard release for the shoe.
Sounds like a good deal? Of course, it does, but being selected for EA is a process that Nike's algorithms likely don't even understand fully. However, you can do a few things to boost your odds, according to Nike.
How Do I get EA?
When the Off-White Dunk Lots 1-50 were released in 2021 solely via EA, Nike peeled back the curtain and revealed some factors that go into their EA selection process. Along with these details, there was the disclaimer that meeting the criteria is NEVER GUARANTEED and still is completely randomized. That being said, below are some tips Nike shared for gaining EA.
Be Active:

Nike wants to see people engage with their App in every way possible. This means logging in regularly and doing things like participating in polls, watching live and on-demand content, posting comments, and setting sneaker release reminders.
Shoe-Specific Activity: The App will often reward those who took L's on an upcoming shoe family of products by granting EA on a new one. For example, EA for the Off-White Dunks was given to those who entered for and lost out on previous Nike x Off-White releases. Conversely, Nike wanted so badly for the Air Jordan 4 SB "Pine green" to make it into the hands of actual skaters that they offered EA those who had purchased previous Nike SB footwear products

Previous Purchases:

Like any other brand, Nike rewards loyal customers. Having a purchase history on your account is also a determining factor for EA selection. It doesn't have to be for hyped products either; all purchases from apparel to accessories count toward your Nike account as long as you're logged in at the time of sale.
Now that we know a little bit about the selection process and understand that it is NEVER GUARANTEED even if you meet all the requirements, there are some things to understand about how EA drops work. EA will only happen for shoes already loaded on the SNKRS App with a release date. When an EA drop is set to occur, the sneaker media world will be the first to know, and you won't have to look hard to find information about it. Every sneaker-based Twitter account and online news outlet will push out the info as soon as it is confirmed.
Nike assigns EA to the selected accounts the night before the EA drop, and you can see if your account was chosen by logging into the Nike desktop website. Once logged in, head to New & Featured → SNKRS Launch Calendar. Find the shoe you're looking for and navigate to its product page. From there, you can see if you have been selected. If the release date shows the actual release date, better luck next time. If it shows the EA date, be ready to go the next day.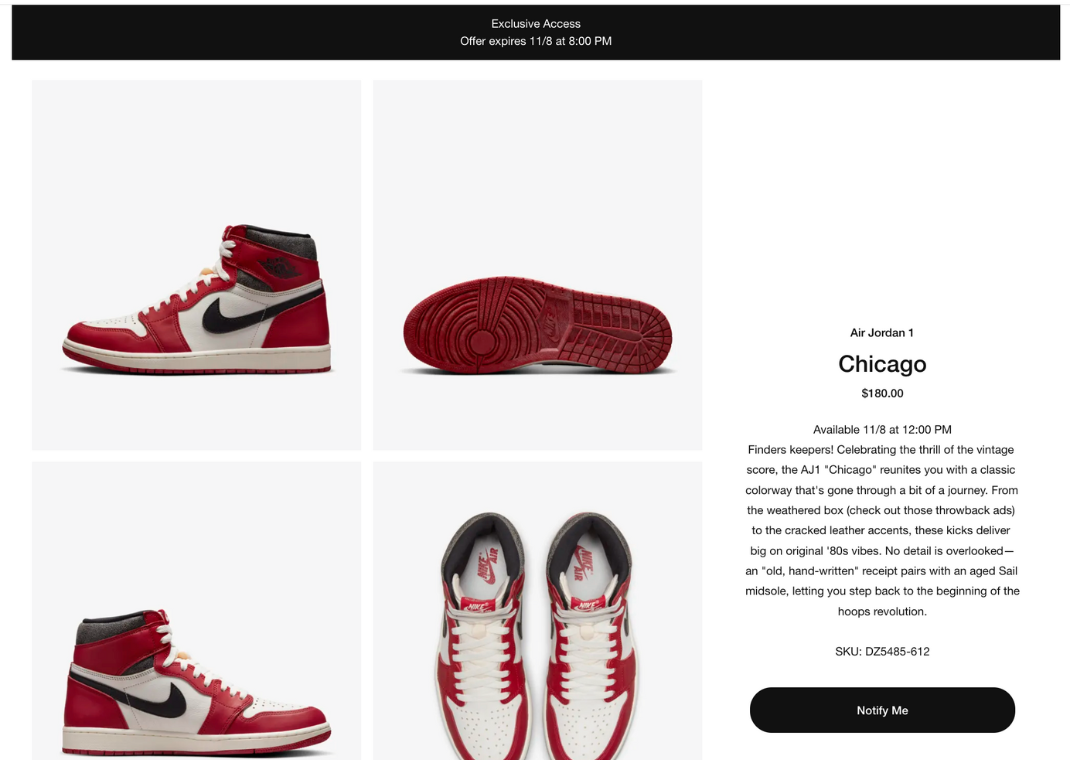 I Have EA... Now What?
It is essential to know that you can still be selected for EA if the desktop site doesn't show the EA date. EA usually takes place at 12:00 PM EST, so always ensure you're checking in at that time, even if the desktop site doesn't give you hope. When EA goes live, the "Notify Me" button will switch and show the shoe's retail price. If you see that price pop-up be fast and cop. Quantities are limited, and sizes are not guaranteed. Understand that just because you have EA, a shoe/size IS NOT RESERVED FOR YOU. Cop your size as fast as possible, as EA sells out quickly.
Remember to scroll down to the GS, PS, and TD sizes, as EA allows you to purchase 1 pair of each sizing family. This means that with EA, you can buy 1x Adult, 1x GS, 1x PS, and 1x TD if available. So remember the little ones and get the whole family set up.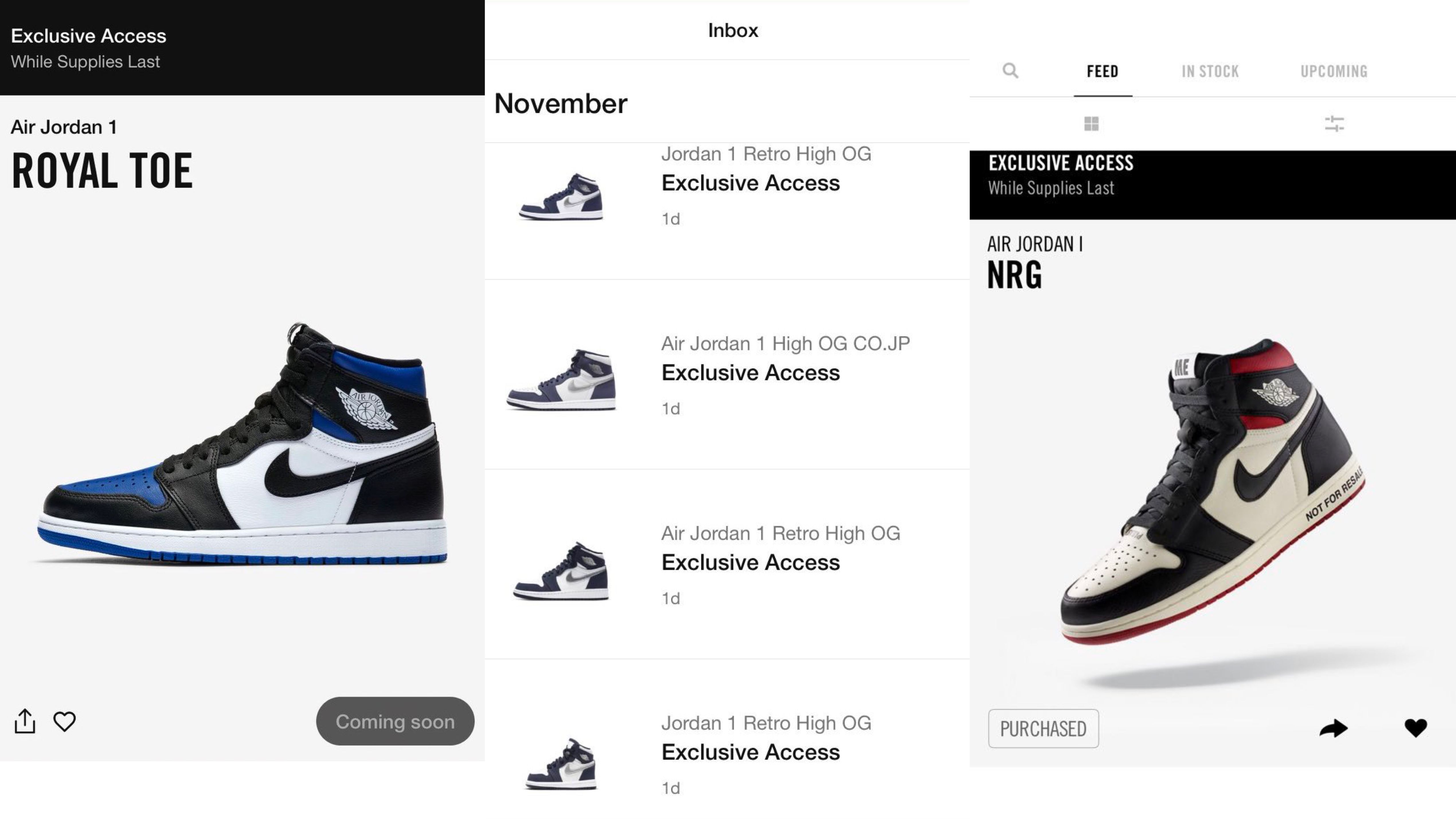 Now that you know more about the SNKRS App Exclusive Access selection and release process, ensure you're following the tips, but don't stress too much if it's not working for you. Millions of accounts are out there, all trying to gain EA for exclusive shoes, and Nike can't grant EA to all of them. Also, don't stress if you see people who don't meet the requirements Nike lays out receive EA because, as mentioned before, Nike's algorithms likely need help understanding the process.
Stay tuned for more tips and tricks, and follow us on Twitter and Instagram for all the latest info on sneakers, streetwear, and collectibles.