Tom Sachs is a well-known artist with the reputation of pushing boundaries and creating provocative installations that challenge the normal conceptions of art. However, for those who have worked in his Chinatown studio, his art practice is just the beginning of an unusual and often unsettling experience. Former employees describe a studio culture that feels like a cult, complete with rituals, systems, and a sense of total commitment to the cause.
In February 2022, a job listing posted by an anonymous "Art World Family" seeking an executive personal assistant for a couple who needed help with everything from rooftop garden maintenance to managing medical needs went viral. Many speculated that the couple in question was Sachs and his wife, former Gagosian director Sarah Hoover, due to the specificity of the tasks and the mention of complicated-sounding "closet" and "dog systems." Sachs has long been known for his meticulous attention to detail and his fascination with systems, both in his art practice and in his personal life. His installations often feature consumer products arranged in precise configurations, and his studio is run according to a set of rules and regulations that dictate everything from how items should be placed to how employees should respond to commands.
Sachs has described his studio culture as his "greatest work of art," but for many who have worked there, it has been a difficult and destabilizing experience. In a recent article in New York Magazine, more than a dozen former employees describe a workplace that often felt like a cult, with employees expected to adhere to strict rules and regulations that left little room for individuality or personal expression. Employees were expected to walk quietly, maintain a healthy diet and exercise regimen, and respond to commands with the words "I understand" or "I don't understand." There was even a system in place for when the system wasn't followed, with employees required to "sacrifice" money to a piggy bank named "Leatherface" after the villain in The Texas Chainsaw Massacre.
While some former employees described their time at the studio as rewarding and transformative, others spoke of feeling constantly on edge and afraid to make mistakes. Sachs has been known to throw objects at employees when he is angry, and in a follow-up video to his 2010 film "Ten Bullets," he illustrates the virtues of a "freakout" by throwing a typewriter through a wall. Former employees also describe a program called "Space Camp," in which employees were required to work out three times a week at 7 a.m. while wearing uniforms printed with their first initial, last name, and serial numbers assigned by Sachs. Sachs has been open about his studio culture and his belief that a certain level of discomfort and challenge is necessary to create great art. He has described his studio as a place where employees are pushed to their limits and encouraged to develop a strong work ethic and sense of discipline. But for those who have experienced it firsthand, the studio culture can be difficult to reconcile with Sachs's reputation as a visionary artist and innovator.
In a statement to New York Magazine, a spokesperson for Sachs described the studio as a "rigorous and exacting artist's studio" that "has fostered high standards and a fast-paced work environment to support a robust output." The spokesperson acknowledged that not everyone is a fit for this culture, but emphasized that "Tom Sachs Studio believes all employees should feel safe and secure in the workplace and is committed to upholding these values." For many former employees, the studio culture at Tom Sachs's studio remains a complex and sometimes troubling part of their professional experience. While some have embraced the challenge and discipline that comes with working in such a rigorous environment, others have been left feeling destabilized and disillusion.
In fact, there's a recent Reddit thread called "How can I work for Tom Sachs?" (One response: "Just show up at the front of the studio, like Fight Club.") According to a second former studio assistant, "It was a really desirable place to be and a privilege in some ways." Owen Zoyt even dropped out of NYU in 2021 to join the studio; he had been applying to work there every year since he was 15. "It's really, really lovely to feel like you're part of something and working in a very tightly knit group in a really fast-paced environment to achieve some really fantastical goal," he says. (Most of the former Sachs employees we spoke to asked for anonymity; many cited nondisclosure agreements, and others said they feared retaliation.)
When you start working at Tom Sachs's studio, you're given manuals, and they're substantially more detailed than Ten Bullets. In one, after suggestions on how to properly approach Sachs about his lunch, there's advice for "Avoiding Things That Make Tom Mad," which begins with a metered verse: "Tom will sometimes scream/Tom will sometimes brood/Though dire life may seem/Happiness lies in reading Tom's moods." Sachs's spokesperson says this manual was a joke. However, recent employees say they took it seriously.
Former employees, a mix of studio assistants, managers, and specialists, all of whom worked for Sachs at various points in the past 15 years, say that it's impossible to read Sachs's moods all the time or to follow any of his exacting systems precisely. And when someone inevitably messed up - if, for instance, they put a "good" lightbulb in the "bad" lightbulb drawer - the consequences were often far worse than giving $2 to Leatherface. Multiple studio members recall Sachs calling them "autistic," "retarded," "bitch," and other names. According to several former studio members, you were at risk of having things thrown - if not at you, then in the direction of where you were working.
"There were so many rules to keep track of, and they came from all over the place - the manual, the managers, Sachs himself. It was easy to get tripped up," say the former employees. Make Sachs's dog his thrice-daily meal of rabbit, sweet potato, julienned spinach, cranberry powder, aloe-vera juice, and coconut oil. Bring Sachs snacks like Ibérico ham if he's signing artwork. All his pens must be new but not new new (the ink should already be flowing). Group lunches are to be prepared by a "food-systems manager" (and forks are to be dropped in unison at the end of a meal).
"Once, I was on the phone arranging Tom and Sarah's travel," says the former studio manager. "They mainly fly first class, and if their seat doesn't go full bed, don't bother coming back in. This was repeated to me." While she was on the phone, the door buzzed and she thoughtlessly let the person in. This was a problem, she says, because staff weren't supposed to let unidentified guests enter: "I got back upstairs, and Tom sprang at me. He was inches from my face. I could feel the heat from his body He screamed, 'Why didn't you answer the door? What's wrong with you?"
Numerous employees of the artist, Tom Sachs, were eager to please him and went to great lengths to locate his preferred "italicized apples," which, as stated by a number of former workers, referred to slanted Fuji apples. Those who were able to locate them were sometimes rewarded. It has been reported by several former members of his studio that Sachs would give birthday gifts of varying value to demonstrate their status. "The initial present was always a knife, and subsequent gifts were based on your perceived value," explained a fourth former studio assistant. Those who were highly regarded might receive Prada shoes, whereas those who were not might be given an item that was previously given to Sachs as a gift.
According to several former studio members, Sachs acted more reserved when in the company of people he considered important. However, in stressful situations such as gallery installations, he was known to let his guard down. A person who worked with him at an institution where his work was exhibited witnessed him shouting at his studio staff, causing some of them to have a vacant expression, prompting her to wonder whether it was all for the sake of art.
According to artist Stuart Semple, Tom Sachs runs his studio like an artwork, which can appear unconventional and extraordinary. However, this approach can raise legal concerns regarding employee management. Sachs has a reputation for being a provocateur, often referred to as the "bad boy" of the art world. He has created controversial pieces such as the Barbie Slave Ship and filled a vase with live ammunition, which resulted in his gallerist being jailed overnight. Sachs has also been criticized for his use of Nazi imagery, though the studio claims he works to subvert and reclaim this painful part of Jewish history.
Sachs openly spoke about his "type" in the office, which made some female studio members uncomfortable. One administrative employee recalled Sachs bringing his toddler to the studio and pointing to her, saying, "See, this is what we call a 'shiksa goddess.' This is what we call Daddy's type." Sachs's studio claims that this was meant as a joke. Another female studio member stated that she was afraid to be alone with Sachs in the studio at night. Sachs called a storage room in the basement the "rape room," but in 2016 he changed it to the "consent room," which his studio also claims was meant as a joke. Some former members of his studio claim that while Sachs required his employees to wear uniforms, he himself often wore formfitting underwear in the studio. According to an administrative employee, Sachs once even showed up to a Zoom call with female Nike employees wearing only his underwear. Sachs's studio asserts that trying on clothes is a "normal part of the design process," Nike has since responded to the allegations. A Nike spokesperson tells us that it's "deeply concerned" about the allegations of inappropriate workplace behavior made against Tom Sachs.
Some former studio employees have expressed discomfort with the way Sachs treated and talked about women. The studio displayed vintage pornography, and Sachs frequently talked about his preferences, including VR, during group lunches. While the studio claims the discussion of pornography was only in the context of projects, some former employees never saw these projects. Sachs also made inappropriate comments about women's bodies and sex, including asking about an employee's living situation and implying she was sexually active with her roommates.
The high turnover rate at Sachs's studio reflects a sense of fear among its former employees. One fabricator recounted that they and two others still have nightmares about their time there. Some employees even left the art world entirely due to their experiences with Sachs. "We're not saving the world, we're not curing cancer -- it doesn't have to be this serious," said one former fabricator. "There's no reason for this abuse; it just didn't make sense. It made me question a lot about how contemporary art is made."
Despite the appearance of a well-run studio with fashionable Prada outfits, the reality was quite different. According to a former studio assistant who traveled with Sachs, the job took a toll on their mental and physical health. "The Prada outfits are digging into your ass, and you're not sleeping, and your brain is broken," they said. "This job ruined the art industry for me. My psychiatrist had a field day."
Tom Sachs allegedly had a reputation for treating his employees poorly, with several former members of his studio coming forward to describe a toxic work environment. They reported long hours, low pay, and a lack of respect for their well-being, as well as instances of verbal and emotional abuse. Some former employees also claimed that Sachs demanded they work on projects that went beyond their job descriptions, such as building elaborate boxes for his collaboration with Nike, and that they were not adequately compensated for their efforts. Sachs's behavior was said to have driven away many talented individuals from the art world, and raised questions about how contemporary art is made and how artists treat their collaborators.
According to reports, Sachs had hired temporary workers to produce the boxes, and these workers were allegedly subjected to grueling working conditions, including long hours with no breaks, inadequate ventilation, and no air conditioning. Some workers also reported being paid as little as $23 per day for their labor. These working conditions were deemed unacceptable by Nike, as a result, Nike canceled the release of the box, and Sachs' studio issued an apology for the mistreatment of the workers. The boxes also had "Work Like A Slave" written on them but Nike had to remove the saying to avoid controversy.
There's no telling what Nike will do as far as cutting ties with Tom Sachs, but will keep you updated as the information arrises. There also is no telling what Tom Sachs may be up to in his studio these days, but it's a good sign that the mistreatment of his workers is being exposed. Hopefully this stops Tom Sachs from acting like an absolute unprofessional freak, no matter the beauty of the art, workers shouldn't have to sacrifice their basic human rights. For more on Tom Sachs Studio, and to stay up to date with all the news in the culture and the latest releases, connect with us, on Instagram and Twitter.
Photo via Getty Images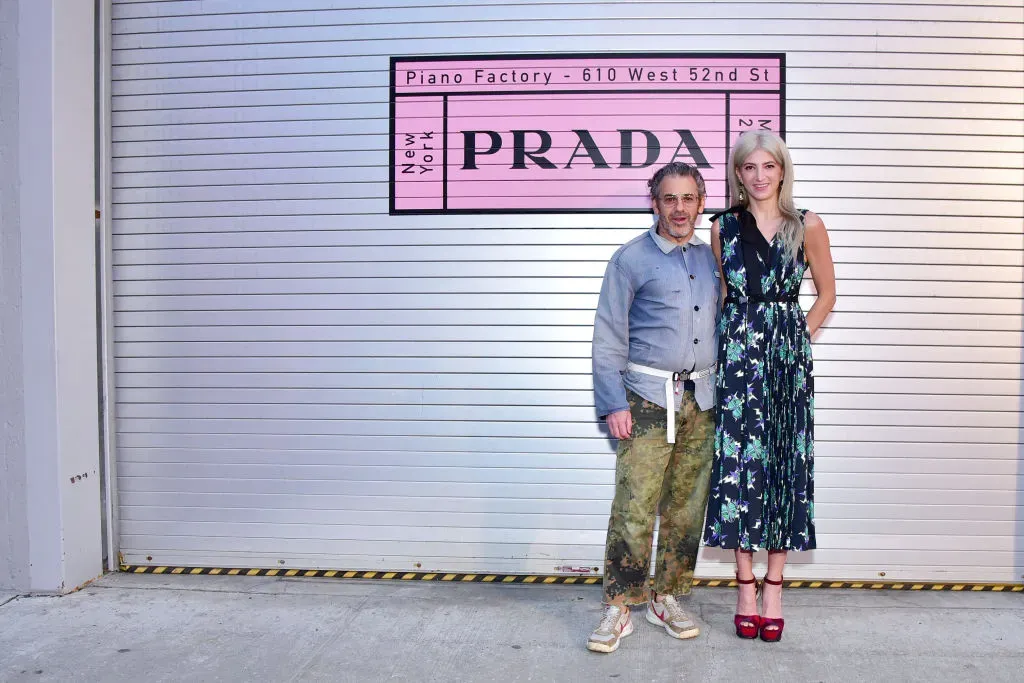 Photo via Complex