Adidas has ended its relationship with Notorious rapper and designer Ye, formally known as Kanye West, the decision is effective immediately.
Adidas released a statement yesterday explaining the decision.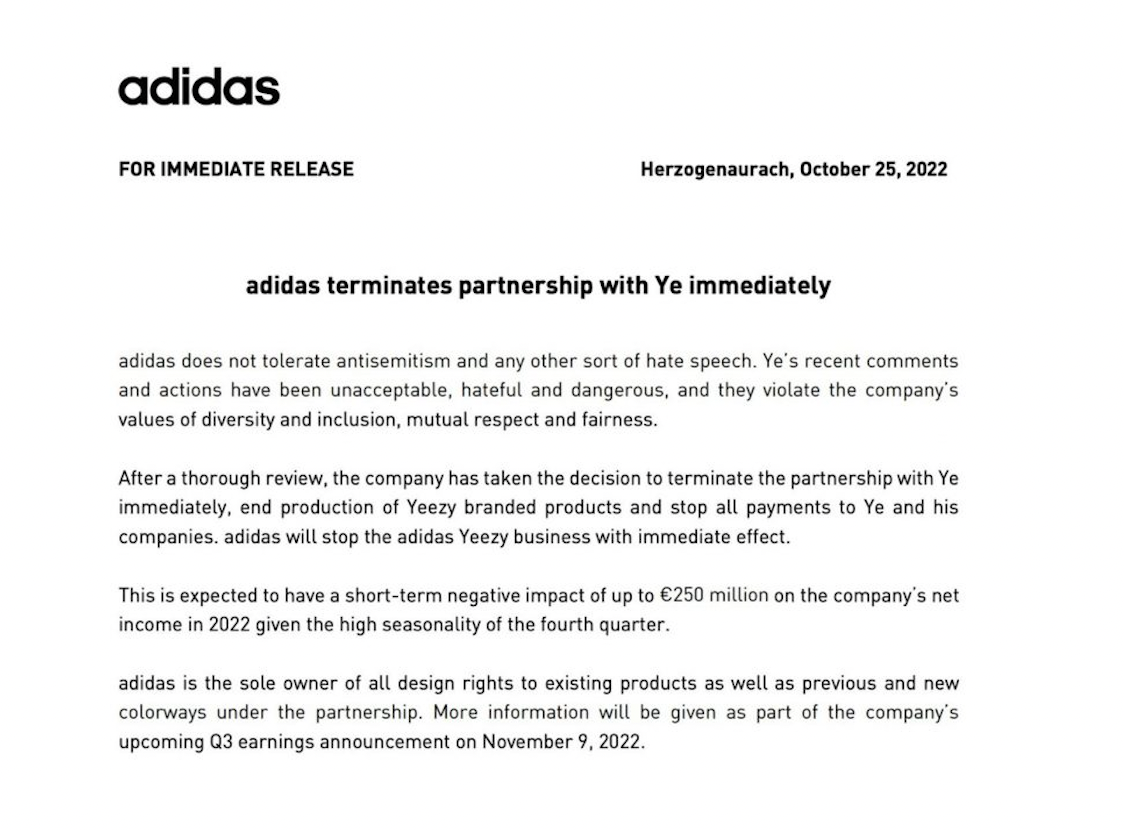 Adidas will take an estimated loss of around $246 million dollars by stopping the production of the Yeezy branded products. Ye has been with Adidas since 2013 when they persuaded him to leave Nike. Adidas called it "the most significant partnership ever created between a non-athlete and an athletic brand." Adidas had previously put the partnership "under review" for the "White Lives Matter" t-shirt that over shadowed his latest YZY Season.
Ye went on the Drink Champs Podcast to poke the bear, "I can say antisemitic s*** and Adidas cannot drop me," He also went to Twitter and said he would "Go death con 3 on JEWISH PEOPLE." Anti-Defamation League CEO Jonathan Greenblatt said Adidas' decision is a "very positive outcome." Shares of the stock dropped 5% after the decision and have not yet fully recovered. Adidas has a dark history, the creator was part of the Nazi regime and was supported by the party during World War 2. Adidas is a part of a long list that includes Balenciaga, JPMorgan, Gap, Vouge who severed ties with Ye, he was also banned from social media Instagram and Twitter.
Adi and Rudi Dassler were members of the Nazi party, the brand declined to comment on its history when asked and tries its best to avoid acknowledgement The brand faced major backlash after not immediately dropping Ye, but hopes its decision will help soothe things over. The decision by Adidas was very abrupt and we will update readers with new information as it surfaces. For all the latest with the Yeezy brand, and to stay up to date with future releases connect with us on Instagram and Twitter.