Adidas is reportedly reevaluating its partnership with luxury fashion brand Balenciaga, as the sportswear giant looks to focus on its core business and prioritize its partnerships with other brands.
The partnership between Adidas and Balenciaga has been in place since 2016, when the two companies teamed up to create a range of high-end sneakers and clothing. While the collaboration has been successful, with the Balenciaga x Adidas collections consistently selling out, it seems that Adidas is now looking to shift its focus towards other partnerships.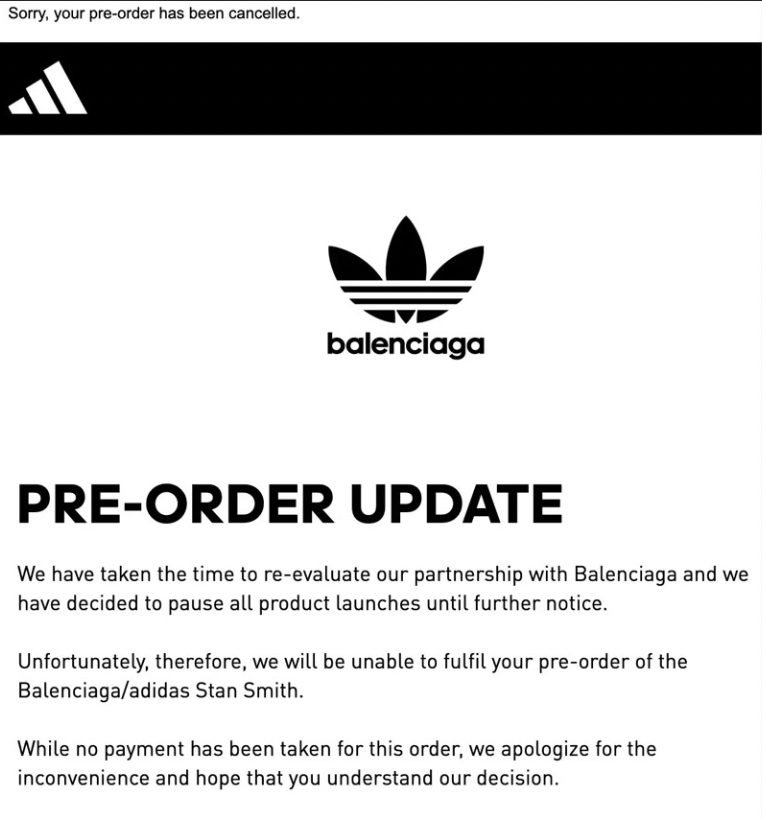 (Adidas x Balenciaga Pre-order Update via Adidas)
Recently, Balenciaga faced controversy over its new ad campaign, which featured children wearing bondage like clothing Many people criticized the campaign, arguing that it was tone-deaf and speculating Balenciagas contribution to the Pizza Gate conspiracy theory.
The "Pizzagate" conspiracy theory is a debunked claim that emerged during the 2016 US presidential campaign. It alleged that a Washington, D.C. pizzeria called Comet Ping Pong was the center of a child sex trafficking ring involving high-ranking officials in the Democratic Party. The theory was propagated primarily through internet forums, such as Reddit and 4chan, and gained significant traction among supporters of then-candidate Donald Trump.There is no evidence to support the Pizzagate conspiracy theory. The theory was thoroughly debunked by numerous media outlets and fact-checking organizations, but it continues to be circulated by conspiracy theorists.
The controversy surrounding Balenciaga's ad campaign may have played a role in Adidas' decision to reevaluate its partnership with the luxury fashion brand. It's becoming increasingly important to consumers that their favorite brands follow share their ideals, and brands are under pressure to demonstrate their commitment to this social responsibility. It is possible that the backlash to Balenciaga's ad campaign caused Adidas to question whether the partnership was aligned with its own values and priorities.
While the future of the partnership between Adidas and Balenciaga is still uncertain, it is clear that the controversy surrounding Balenciaga's ad campaign has attracted significant attention and may have had an impact on Adidas' decision to reevaluate the collaboration. For the latest news going on in fashion, and to stay up to date with the latest releases, connect with us on Twitter and Instagram.