In 1993 a man by the name of Tomoaki Nagao aka Nigo founded a small streetwear brand in Japan called A Bathing Ape, or Bape for short. 10 years later pieces of the brand started to appear in the US and sparked a new millennium for streetwear culture. Ye, formally known as Kanye West, was one of the brand's biggest advocates and wore colorful clothing as a status symbol. Other hip-hop artists adopted the style and Bape's popularity skyrocketed to heights no other brand in recent years has been able to replicate. Nigo sold Bape in 2011 and stepped down as the creative director in 2013, now Nigo spends his time as the creative director of KENZO and helps out with Human Made.
Nigo created a blueprint that was often imitated but never duplicated, and even got the attention of some of the most notable brands in the fashion industry. One of those brands was none other than Nike, Nike took notice of Bape's signature sneaker the Bape Sta. The sneaker took the Nike Air Force 1 silhouette and revamped it with colorful shiny patent leathers and replaced the Nike Swoosh With a Bape Star. Nike never pursued legal action against Nigo, however, in 2009 Nike's lawyers met with Bape to address "pirating of Nike's iconic Air Force 1 design." Nike then offered Bape an official licensing agreement that Bape ultimately denied and instead opted to change the shape of its Bape Sta.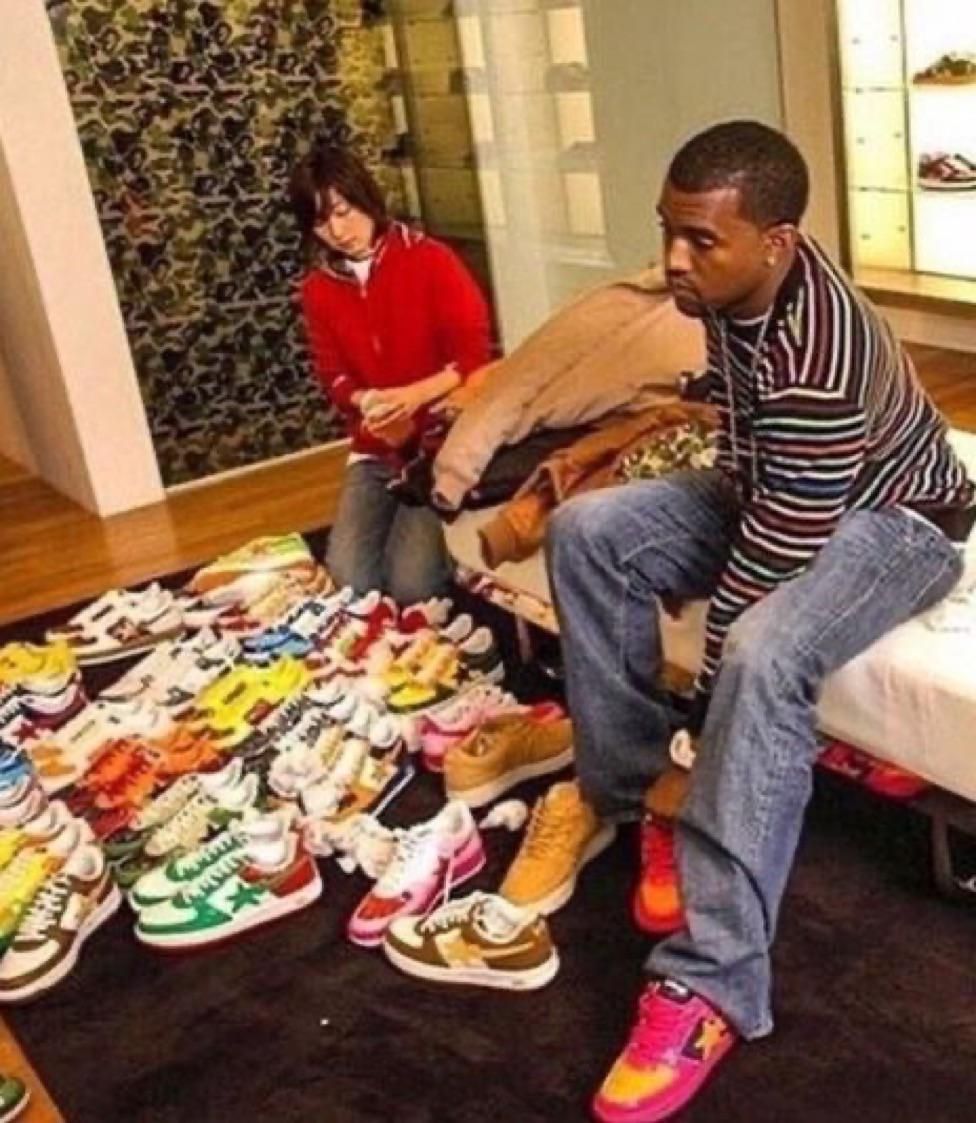 (Kanye West At Bape Store Circa 2005)
However, rumors have begun to circulate about Nigo's upcoming partnership with Nike. This collaboration would mark a significant shift from his longstanding footwear collaborations with Adidas over the last two decades and put aside the long-standing feud between Nike and Bape. While Nike has yet to comment on the partnership, a source close to the collaboration confirms that the two brands are in the early stages of developing a new sneaker together. However, consumers will have to wait until at least 2024 to see the fruits of their labor.
Although Nigo has never worked directly with Nike, the designer's relationship with the brand dates back to the early 2000s when Nike's leadership met with him during their trips to Tokyo. Meanwhile, Nigo's Bape brand collaborated with Adidas on popular sneakers like the Superstar starting in 2003, and he continued to work with the German sneaker company through his Human Made brand. As for Adidas, a source tells Complex that the brand will not be extending its contract with Nigo. Although Adidas did not provide an official comment on the matter, it's likely that Nigo's partnership with Nike keeps him from continuing to partner with their main rival.
Nigo was interviewed by Complex in 2008 and explained his stance on the so-called Air Force 1 rip-offs, "I never read blogs, So I don't even hear the criticism about us doing Nike take-offs. I'd like to say that other brands doing Bape knockoffs show that the brand is recognized and desired. But in reality, it's really annoying to have to deal with it." Nike even started releasing colorful takes on their Air Force 1s when they realized just how popular the Bape Sta was.
Although Nigo has yet to make an official statement regarding his collaboration with Nike, a recent Instagram post featuring him wearing the Nike Go FlyEase got the grapevine buzzing. Considering that the Japanese designer is rarely seen sporting Nike shoes. The choice of footwear seems intentional and may indicate a potential partnership between Nigo and Nike. While we wait for official details of the collaboration to surface, connect with us on Instagram and Twitter to get all the latest news on sneakers, releases, and collaborations.