It's a simple piece of foam. It is padded nice and thick on the bottom, a sleek design that makes it as fashionable as a Slide can possibly be. The Yeezy Slide is one the most significant pieces of art Ye West has ever produced. That's saying a lot for a man who's stood at the forefront of the fashion world for years and is a once-in-generation musician.
When the Yeezy Slide first dropped in 2021, people weren't too sure what to do. Was it cool? Was it weird? What was it? In some stores, that actually sat on shelves for a day or two before entrepreneurial resellers saw the writing on the wall and snatched them all up. Next thing you know, Kim K was wearing them around town in baggy sweatpants, and the rest is history. Soon, they were everywhere. Men, women, and kids were all wearing them, and a $70 piece of foam was reselling for four times its price.
The Yeezy slide would slowly roll out in a handful of colors, and with each new release, the momentum picked up steam. Each subsequent drop seemed to sell out faster than the last one, and it came to a point where the colorway didn't matter; people wanted them and would pay a full-on headcrack to get them.
Now that the Yeezy Slide has restocked its OG colors numerous times and the end of Yeezys altogether is seemingly near, our team took a look back and ranked the Top 5 Yeezy Slide colorways of all time.
1. Pure
Nailed it right out of the gates. The Uber neutral color was perfect for the streets and the beach resort. It's so easy to wear that you actually have to try to find something that doesn't match well with it. The OG pair from 2021 was made from a slightly slicker material than the 2022 restock, but you'd be hard-pressed to say which pair is actually better as they both had their merits.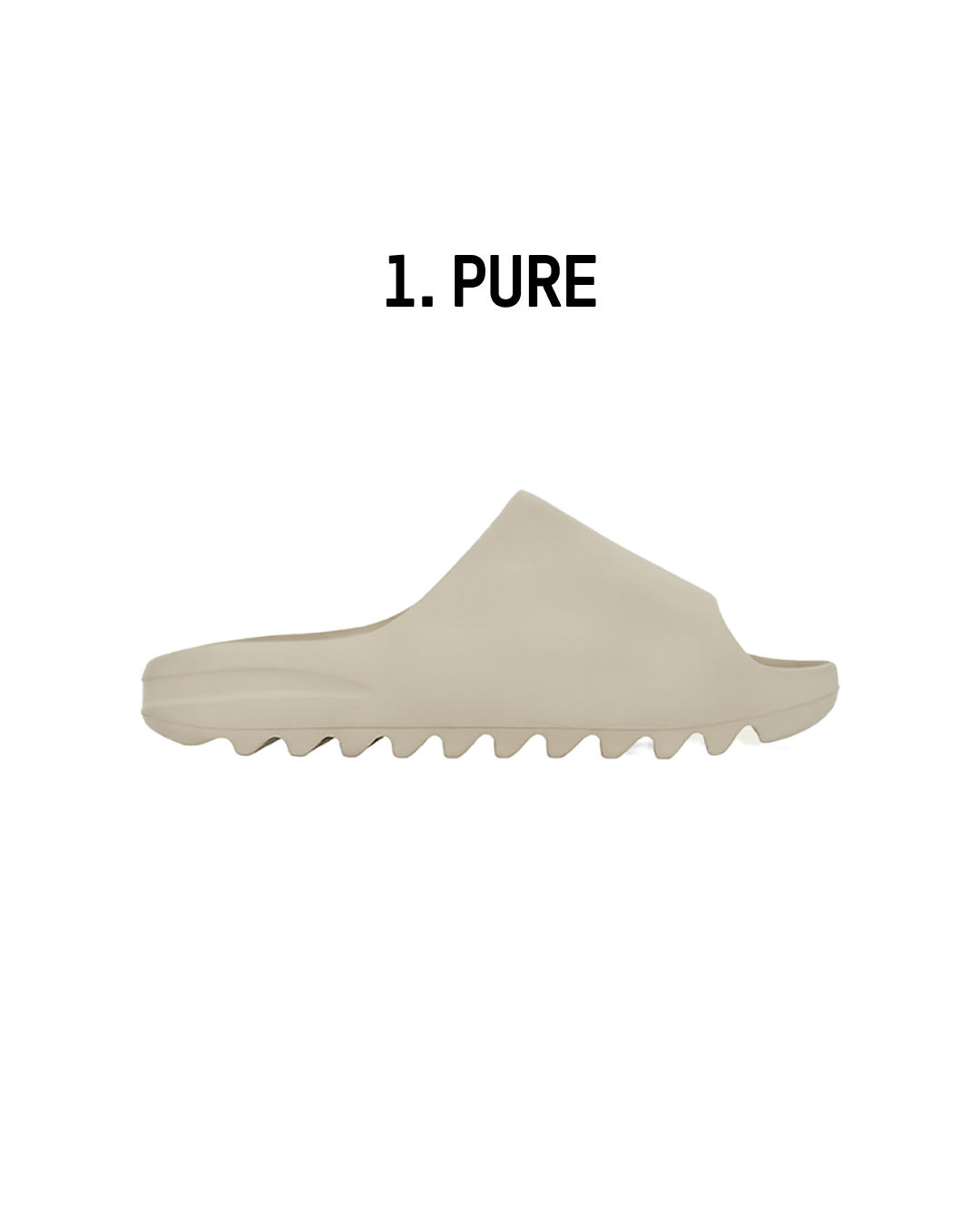 2. Onyx
It is tough to argue that the black pair shouldn't be #1 on the list, and it could honestly be #1. The black is just classic and elegant. The Onyx is super versatile and can go with nearly everything. There's also an upside to the Onyx that other colorways don't have: it hides dirt and scuffs rather well.


3. Enflame
This was the one that really caught people's attention. The previous releases were neutral and could blend in with the masses of slides in the streets, not the Enflames. The bright orange color let people know from a mile away that the Yeezy Slide was a force to be reckoned with.

4. Bone
The Bone colorway was a little bit slept on. People thought it was a little lazy and uninspired. They forgot just how valuable and subtle off-white slides can be in your rotation, especially during pool and beach season.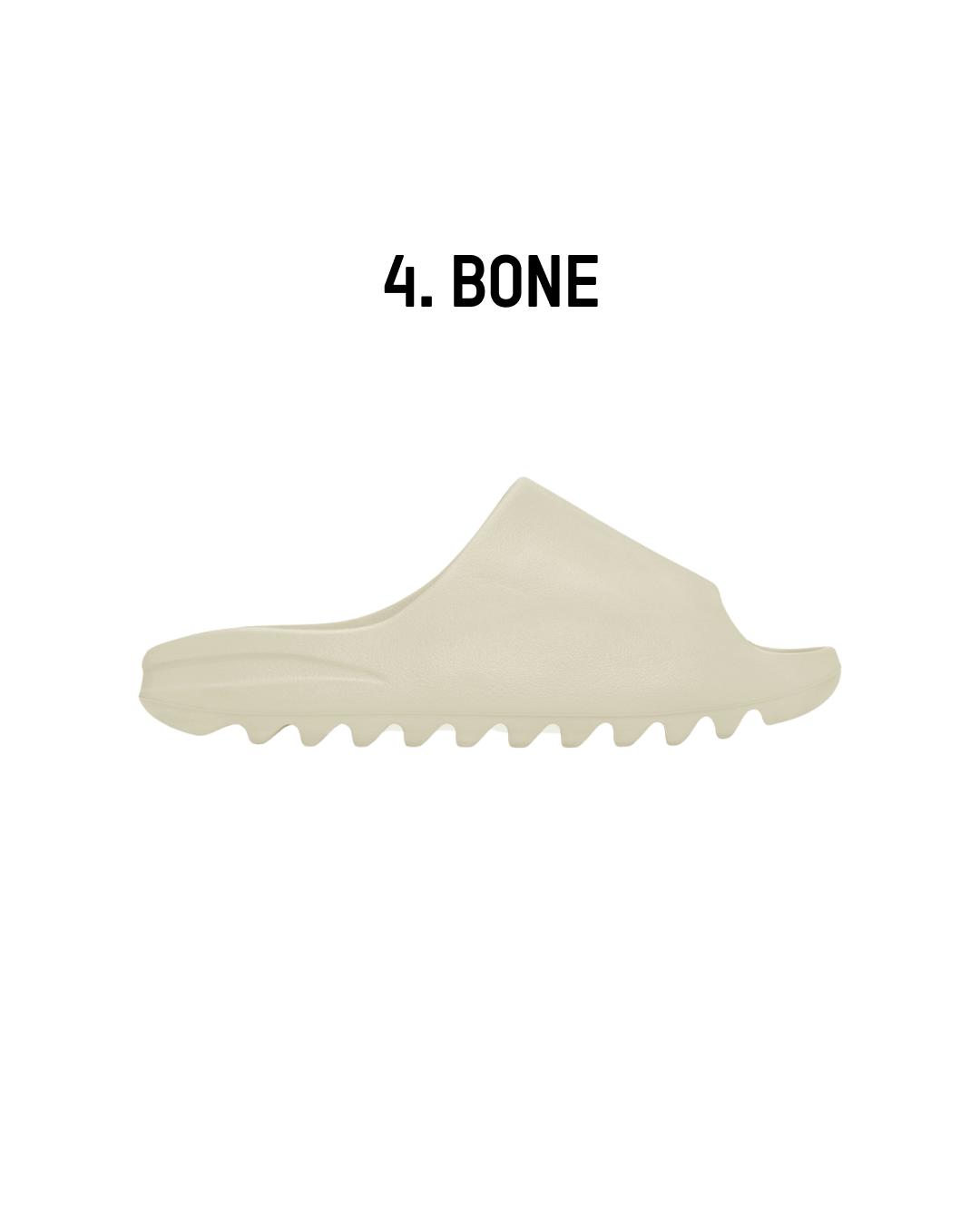 5. Green Glow
Another bright colorway that sets in between the more neutral colors and the Enflames. Bright enough to make a statement but smooth enough to not have to. The one downside to the Green Glow is that it shows every bit of dirt it comes in contact with, so if you have a pair, make sure you keep them clean.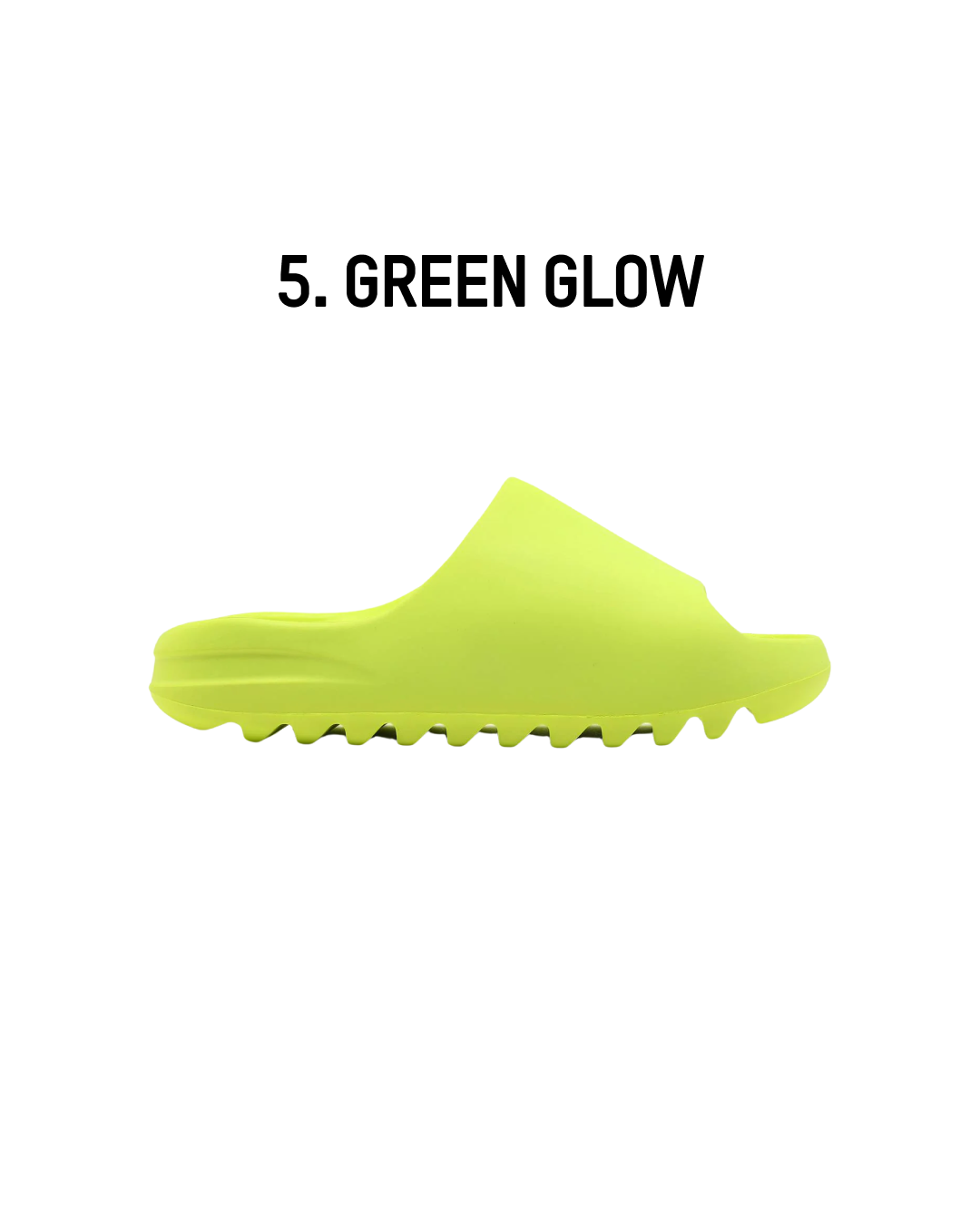 The Yeezy Slide is a silhouette that many have imitated, yet none of them come close to matching its appeal. The shoe was ahead of its time, and the thick-soled single-unit, seamless foam construction launched an entire sub-genre of the slip-on slide. New colorways and restocks of OG's have been dropping consistently lately, but they could soon be gone for good if the Yeezy/Adidas relationship is indeed over. If you don't have at least one in your closet yet, you may want to give them a shot before it's too late and they're gone for good.
For more news and notes on sneakers follow us on Twitter and Instagram.